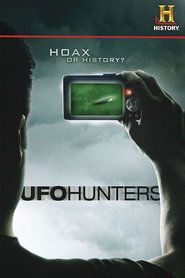 UFO Hunters
UFO Hunters is an American television series that premiered on January 30, 2008 on The History Channel, produced by Motion Picture Production Inc., and ran for three seasons.
Jon Alon Walz was the Executive Producer of the show and was responsible for selling the series to History Channel after a bidding war for the rights to the show broke out between History Channel and Sci-Fi Channel.
The concept for the show was tested in a segment of History Channel's 2006 UFO special entitled "Deep Sea UFOs", produced by Motion Picture Production Inc, which featured two of the final four cast members. "UFO Hunters" was not a spin-off from a 2005 History Channel special with the same title.
The tagline of the show is: Hoax or History?
The series should not be confused with a similarly themed and titled UFO Hunters, a special that debuted the same day and time on the Sci-Fi Channel, and created by the producers of Ghost Hunters, but which only aired one episode.
In the US, History Channel only released the first two seasons on DVD in the correct airdate order. However, the format was only released in full screen instead of wide screen. In the UK, History Channel released the third and final season on DVD however, the episodes were released in the incorrect airdate order.